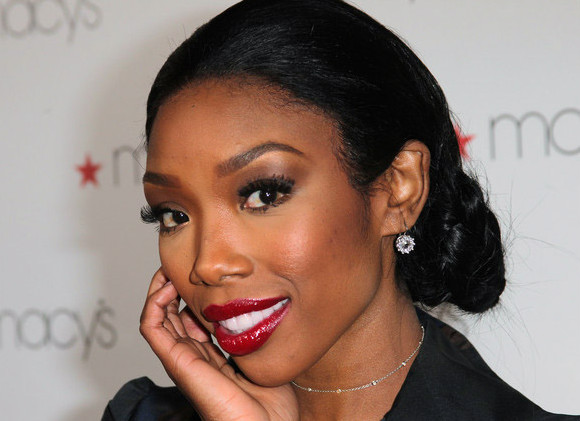 Brandy Rayana Norwood (better known as Brandy) is a Grammy award winning singer, actress and model. She was born in McComb, Mississippi, in 1979 and was the eldest child of a church pastor named William Ray Norwood Sr. and his wife Sonja Norwood. Her younger brother Ray J is also a singer and actor, and the rapper Snoop Dogg is her first cousin. Brandy began singing from an early age in the family's church choir. Her parents soon recognized that she and her brother were musically gifted and they relocated to Los Angeles, California in the hope of kick-starting their children's careers. Her parents signed her up for several talent shows, where she greatly impressed audiences.
Their efforts paid off as Brandy received her first recording contract with Atlantic Records. At the time she was still in 9th grade of high school. Soon, she also received a role on an ABC television sitcom called "Thea". The show didn't last very long but it was monumental in launching Brandy's career, as her performance had been particularly noted and praised. After signing up with Atlantic Records, Brandy began working on her debut album. It was released in 1994 and was titled "Brandy". The album received positive reviews from critics and fans and the song "I Wanna Be Down" reached the No. 1 position on the Billboard Hot 100 charts, staying there for 4 weeks.
Brandy's mother acted as her manager in the early part of her career. Her songs were well liked because of the element of childish innocence in them, which audiences found refreshing. She made sure never to use profanity in her lyrics or to overstep the boundaries her parents had set for her. One of the major influences to her music is Whitney Houston, whom she greatly admires. After the release and positive reception of her album, Brandy returned to acting, this time on the UPN sitcom "Moesha". The show ran for 6 seasons and was very popular.
During this time, Brandy recorded a second album, titled "Never Say Never". It was released in 1998 and featured her mega hit song "The Boy is Mine" on which she collaborated with fellow R&B singer Monica. The song reached the No. 1 spot on the US Billboard Hot 100 charts and was also nominated for 4 Grammy Awards, of which it won the Grammy for "Best R&B Performance by a Duo or Group with Vocals". The album itself became the bestselling R&B album of 1998 in the United States and sold more than 16 million copies worldwide.
At the end of her teenage, brandy worked as a model, and did not release her next album until 2003. This was titled "Full Moon" and was followed up by her 2004 album "Afrodisiac and Human". She was involved in a very serious car accident during this time and disappeared from public life for a while. After this incident, she released her next album in 2008 titled "Human". She says that music helped her to reconnect with herself and healed her from the shock of the tragic accident, which had claimed the life of another driver. In 2010, Brandy was a contestant on the television dance competition "Dancing with the Stars" and also starred in the reality TV series "Brandy and Ray J: A Family Business" which also starred her brother and parents. In 2012, she released her sixth album titled "Two Eleven". Her seventh album is scheduled for release soon.
Brandy Norwood was engaged to an NBA player named Quentin Richardson in 2004, who was then playing for the Los Angeles Clippers. She also briefly dated the rapper Flo Rida and in 2012 she got engaged to a music executive Ryan Press, but the couple has since split up. She was romantically involved with Robert "Big Bert" Smith, the producer of her album "Full Moon" and has a daughter with him. She established the Norwood Kids Foundation along with her brother. The organization aims to inculcate positive values in youth via performing arts. She is also a UNICEF spokesperson and supports other causes such as the Make A Wish Foundation and RAINN.